SeaPlus
Seaplus is a 3-2-2 guaranteed minimum analysis liquid fertilizer.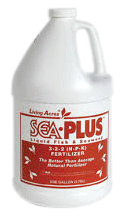 The fish solubles (emulsion) are from herring, stabilized using phosphoric acid, and mixed with a liquid seaweed extract. The manufacturing process includes steps to eliminate both bioactivity and the gassing out that comes from mixing acid and alkaline solutions together. Seaplus is double-filtered (at low pressure) through .011 inch (.28 mm) square opening stainless steel screens.
Seaplus is not OMRI listed but the manufacturer claims to have met the criteria for certified organic growers in New England, New Jersey and New York. According to the manufacturer, while specific reviews have not occurred in other states and agencies, Seaplus meets all present standards of the National Organic Program (NOP).