Azomite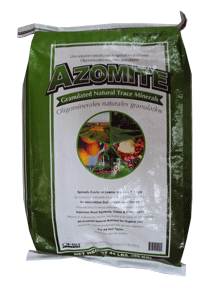 Azomite is a simple to use, natural mined mineral product. It requires no mixing or special equipment. It is odorless and won't restrict aeration or water penetration. Unlike some products, Azomite is not a manufactured or chemically prepared fertilizer. It is 100% natural with no additives or fillers.

Azomite trace mineral fertilizer is a complex of naturally occurring minerals which contains essential elements (micro-nutrients) for plant growth. Fertilization with Azomite adds some of the required mineral balance for the growth of common soil flora and fauna vital to overall productivity. Continuous plant propagation and the leaching effects of water may deplete essential minerals and micro-nutrients from soils. Azomite can improve soils that have been depleted of these important minerals and micronutrients. It can also supplement soil that are inherently deficient of these vital mineral concentrations.
Azomite is a natural source of trace elements for both animals and the soil. It is a hydrated sodium calcium aluminosilicate derived from a natural volcanic mineral deposit. Azomite is typically spread at the rate of 300 to 600 pounds per acre (often added to compost or other fertilizer material first). Either lightly disc into the soil surface or apply in the row when planting. In feed rations, 1-2 percent (do not exceed 2 percent) of the feed mixture and mix thoroughly with feed.
Azomite is packaged in 44-pound bags.
For more information, download the product label pdf.
OMRI LISTED™ – View Micronized OMRI Certificate
OMRI LISTED™ – View Granulated OMRI Certificate