Testing Services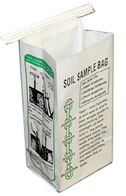 North Country Organics can have your soil, compost, potting media, and plant tissue analyzed via Waypoint Analytical, Inc. a highly respected, reputable, independent laboratory. We encourage you to utilize their services and can provide you with the materials necessary to submit samples.
We have found Waypoint to be faster, less expensive, and provide more data than most university labs. After your samples have been received, Waypoint typically finishes analysis within 24-hours and, if you've purchased the service through NCO (pricing is the same as purchasing directly from the lab), the results are emailed to us and forwarded to you. NOTE: If you use our form with our account number DO NOT send payment to the lab. We will contact you for payment when we have received your lab report.
If you need help with interpretation, we'll have a copy of your test. Those of you who are inexperienced but up for the challenge of interpreting the report yourselves, try our STEP by STEP Soil Interpretation Guide. If you already know how to interpret a soil analysis report but would like some verification, our calculation pages may help.
If you have a farm in Vermont, the VT Department of Agriculture may required you to employ the Modified Morgan test for phosphorus (P). Waypoint's can comply with that requirement. You will not find that choice on the Soil Sample Submittal Form but you can ask for "Modified Morgan Results Needed" under "Additional Tests or Other Information"See a complete list of Waypoint's tests and prices.
Download Forms
Note: It is extremely important that you provide your contact information in the "Submitted by" section of the forms.

*(Pricing for compost analysis appears under 'Environmental Analysis' in the
Waypoint price list
.)
†
Depending on your browser, you may have to download the appropriate form and open it in
Adobe Acrobat Reader
to enable the fillable fields. Or, if you prefer, you can print the blank document and complete it manually.